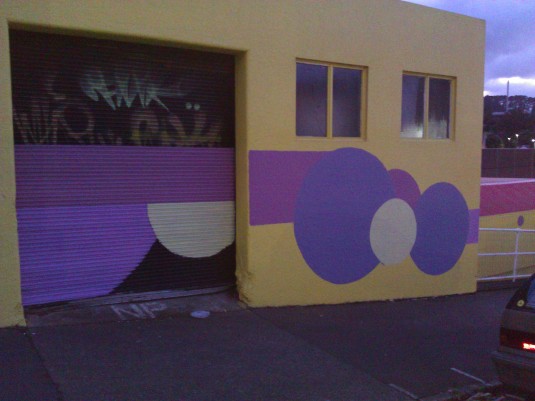 The Wellingtonista's task is simple: point out the bad shit and the good shit in Wellington. This is definitely in the good shit category.
Hall Street in Newtown is, like many urban streets, troubled by groups of young people and their desire to write their names over and over again on walls. This is not the pretty kind of street art that we all like (cue up a "what is art?"/"Hadyn is a fascist" discussion), it's generally scribble in black paint.
Enter the anonymous painters.
For over a year now, a group of unidentified painters (and I assume it's not a council initiative) have been covering the graffiti with coloured rectangles. In recent months the painters added circles to their repertoire. The simple shapes created a wonderful modernist look to the black walls on the corner of Hall and Adelaide. As the shapes were covered with more painted signatures, the rectangles would be painted over with more rectangles. The overlapping collage is visually stunning.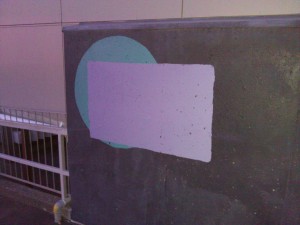 To the point now where a single tag inside a shape can look purposeful and artistic. You can see the remnant of one inside this circle near the corner of Hall and Riddiford.
Newtown has seen random, anonymous art before. The Luminous Sticker Art of Newtown won a Wellingtonista Award back in 2008. But this might be the first time that the art has a "community function" to it.
I would love to see the Circles and Squares of Hall St nominated for a TAWA this year, so if you get a chance (say after going to the Newtown produce market or having a coffee at Velox), take a wander up Hall St and see what some amazing anonymous (and civic-minded) artists are doing.