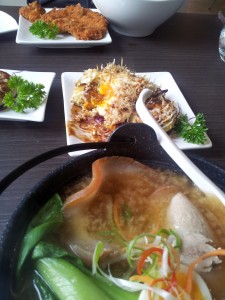 When I saw the menu for the new Japanese eatery on Kent Terrace, Origami , I was excited. Okonomikyaki! Okyakodon! Ramen! Let me break your heart early and tell you that those exclamation points were a tad premature.
While the menu didn't have my favourite ramen style, tonkotsu (not to be confused with tonkatsu), it did have miso ramen which will do in a pinch. I noticed they listed Tom Yum ramen, this was not a good sign. Then a friend sent an image of the miso ramen she got the night before: carrots and bok choy. I could hear the ominous string music but you cannot judge lest you have eaten, so I ate.
Sigh.
Between us, my girlfriend and I had: miso ramen, tonkatsu ramen, okonomiyaki, and gyoza.
The tonkatsu ramen was basic ramen with tonkatsu on the side. I assume the idea was to dip the katsu in the soup, but as that would ruin the nice crunch we asked for katsu sauce instead. I could drink a gallon of katsu sauce easily, and I'm fairly sketchy on exactly how much a gallon is. The problem was with the broth: it was flavourless. It had a nice brothy texture but just didn't taste of anything.
The miso ramen suffered the same fate. It tasted as though someone had made miso soup then added ingredients to it. There was no "brothiness" to it. What worried me more was the ingredients placed on top: carrots and bok choy. The photographic prophecy had come true! Japanese ramen (and I confess to not eating every style, but I have tried a lot, if you'll indulge a link to my travel blog) does not have carrot and bok choy in it! It can have spring onion, sprouts, bamboo shoots, seaweed, mushrooms, onions, and chilli but of these Origami only added a sparse amount of spring onion.
The pork belly that was added to the top was pretty much what I expected. A little thicker than you usually get in Japan, but more pork is rarely a problem. The issue came when I tried eating it with chopsticks. It was too thick to cut through and not quite soft enough to break up easily. Also, it still had a slight rind meaning I ended up having to use my teeth to cut through it (like hell I was going to use the Gaijin cutlery they had provided!).
Japanese food is not known for massive flavours, but what they do well are sauces. So why are the tables at Origami empty? I had to ask for katsu sauce. They had soy I discovered when I went looking. But where is the sesame oil, the vinegar, the chilli oil? Where are the little pottles of sesame seeds? The jars of ginger?
The gyoza was interesting. It was large and more like a fried pancake than the small pan-fried dumplings we were expecting (again making chopstick use difficult). The okonomiyaki was not too bad, if a little stodgy, though I will admit that I mistakenly was expecting modanyaki (made with noodles) which was my fault. It came slathered with mayo (yes!) but again we had to ask for sauce to put on it, and if you've ever had okonomiyaki you know that you NEED sauce.
Japanese food uses a lot of eggs. Ramen often has a halved boiled egg on top, and other dishes, like okyakodon and okonomiyaki  are topped with an egg. The trick is, these eggs are only partially cooked so when split open the yolk leaks out and cooks with the rest of the hot food (in the case of ramen the eggs are half-boiled and the yolk is very thick rather than runny, these eggs are often soaked in the broth overnight too, giving them a brown colour). The eggs at Origami were hard. The egg on top of the okonmiyaki was better but had been fried, making it incredibly hard to cut with chopsticks.
これが本当の日本の食べ物ではありません!
I couldn't help but shake the feeling that this was a place that had decided to open a Japanese restaurant because they seem to be fairly popular, rather than because they can make good Japanese food. And I really wanted it to be good! While every week another sushi shop opens, the search for good ramen in Wellington continues.