Matt Couper @ Janne Land Art Gallery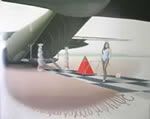 Wellington artist Matt Couper's new exhibition opened earlier this week at the Janne Land Art Gallery (which has recently moved to Unit 1, 13 Jessie Street).
According to Wikipedia, his most latest work illustrates imagery from his recent trip to the USA, and is concerned with Masonic symbolism, modern architecture and cultural paranoia. You know, that's exactly what I was thinking as I browsed the catalogue.
The exhibition is on until the 19th of March.