Kaikohe Demolition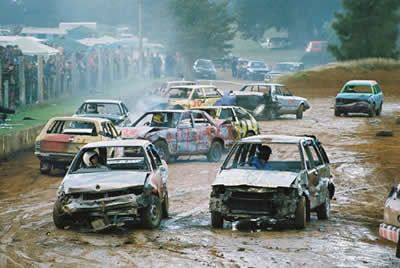 A reminder that the Film Archive's Media Theatre has a couple more screeings of the excellent Kaikohe Demolition documentary later this week, on Saturday 14 May at 6pm and 7:30pm.
…[A] documentary by intrepid New Zealand filmmaker Florian Habicht captures the gracefulness and poetry of demolition derbies. Ah, yes: there is a harsh, strangely lyrical beauty to be found at the speedway: the mangling impacts and hoicking engines; the expert hoons clustered 'round raised hoods; the lone girl standing at a wire mesh fence, solemnly licking an ice cream as she watches the carnage in the mud. Such is the beauty of Florian Habicht's documentary.
Entry is $8, or $6 for those eligible for a concession.
[via House of Evil Monkey]