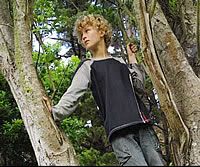 One for all you film and music enthusiasts out there (and more especially if you're both): Lachii – the single-shot film by Ed Davis with accompanying live music by HDU's Tristan Dingemans (aka Kahu) – is having a public screening at the Paramount this Sunday night (November 27) at 9:30pm ($15/$10).
From the blurb…
Lachii is an hour-long continuous shot that follows a small boy as he goes on a bit of an adventure round a small farmlet next to the Porirua Stream. The creek is littered with half-buried treasures/domestic junk/heirlooms of industry. Lachii's is a timeless journey – in the same way that kids lose track of time when their imagination is truly engaged in something – building a dam – climbing a tree – playing "poison grass" – flicking bug-shells off a fence post… Filmed on the site of a derelict flourmill just off Willowbank Road, Tawa.

The screening of Lachii is accompanied by a live soundtrack performed by KAHU, alone with guitar and fx pedals. Tristan manages to create huge sweeping orchestral movements as a solo act – using layers of delay and and an e-bow – which he then introduces distant melodies and cataclysmic sweeping hurricanoes. It's amazing music to hear live – filling the entire space as if in a church – and then dropping back to hear all the distant subtle details that linger – a perfect soundtrack to Lachii's intrepid journey in the creek.