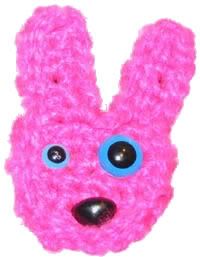 Okay, so that's a lame song-lyric pun, but you try coming up with something wittier when you've just spent 48 hours chained up in fluffy handcuffs and you're writing a post about a craft fair called "Craftwerk". Since this is from the people who brought you BitchCraft, it's not the usual raffia mafia and dodgy doilies: expect more along the lines of Cleavage Girls buttons, knitted posters for Disasteradio, self-published 'zines and teddies with entrails. Yummy.
I could try rewriting the press release, but my brain is still busy recaffeinating, and besides, I have to get the candlewax and lipstick off my tux. So, here's the press release in its entirety.
…
CraftWerk is a bi-monthly craft fair featuring the best and brightest of the Wellington craft scene. The inaugural CraftWerk launches at The Paramount Theatre on the 13th of July from 5.30pm.
CraftWerk will feature a diverse range of: art, handmade items, and indie designer fashion, representing New Zealand's handmade revolution. What sets CraftWerk apart from any other fair is our intention to foster and inspire kiwi crafters without profiting at their expense. Simply think traditional fairs with a twist and you have CraftWerk.
The Paramount Theatre Wellington's oldest Cinema and now its hottest events venue is where CraftWerk calls home. The Paramount's lounge bar is stocked with a wide range of beers and wines as well as soft drinks, snacks and Kapiti ice-cream. This relaxing atmosphere, in the middle of Wellington's hub of entertainment and nightlife, Courtenay Place, allows vendors and shoppers alike a break from the bustle and a chance to absorb the CraftWerk experience.
Right now CraftWerk is accepting applications for vendors. Application details can be located at www.craftwerk.co.nz, or by emailing us. There is no charge for applying; our only pre-requisite is that everything vendors sell is handmade and coming from the bottom of their crafty heart.
Unlike traditional fairs CraftWerk supplies vendors with a table, chair and a private mailing list to share tips, tricks or a crafty shoulder to cry on when the cat turns your wool collection into a bed. Additionally if CraftWerk manages to obtain sponsorship we plan to refund every Vendor a third of their application fee on the night. Yes, yet another thing which makes CraftWerk different from every other fair or market in New Zealand.
CraftWerk only accepts vendors with handmade items. So don't expect any imported second class creations or junk from your Nana's Hat Box. Unless it's a very stylish Hat Box in which case it's probably been converted into a bag. So get your Craft On and be at the Paramount Theatre for a night of Craft on July 13th from 5.30pm
CraftWerk is organised (for love and not for profit) by dedicated crafters Heather Barnes and Sue Tyler. Heather was the genius mind behind BitchCraft and Sue one of the Crafters. Held twice in 2005 BitchCraft was a smashing success. In fact, most vendors had only two complaints: there were too many bodies and they sold out of merchandise! Not a bad problem to have if you're a vendor! Vendors and shoppers told us that BitchCraft was the BEST fair they had ever attended.
Both Sue and Heather are available for interviews to discuss CraftWerk, the rising craft revolution, craft demonstrations and anything else craft related. The only problem might be getting them to stop talking.
For more information – visit www.craftwerk.co.nz or Email: craft@craftwerk.co.nz.