The Player and the Advocate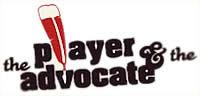 Oscar is a hotshot young actor in the bustling Elizabethan Wellington theatre scene, loved by the Publick, but resented by the authorities. When he is kicked out of his theatre company for "improvising" he must fight, not only to get his job back, but also to stop the Queen from pushing the country into all-out war…

What if Wellington were the centre of the Elizabethan world, pioneering an explosion in theatre, fashion, new music and coffeehouses at the birth of the modern age?
Awesome. The short pitch is 'Whale Rider meets Shakespeare in Love', but the above is the longer synopsis of the plot for The Player and the Advocate – a new film being written by Wellingtonian John Parker.
John's having a public reading of the feature film treatment on…
Sunday 1st October, 4:00pm
@ Katipo Cafe, 76 Willis Street, Wellington
Duration: 1 hour (45 minutes for reading, 15 minutes feedback session)
Cost: free!
Featuring: Erin Banks and James Stewart, two of Wellington's finest theatrical talent
…so feel free to head along and help shape what will hopefully be one of the next great pieces of Wellington film-making at its earliest stages.