Costume Cave 2 sale
Right now, as we speak, the Costume Cave 2 is selling old theatre, TV and film clothes for you to prance around in.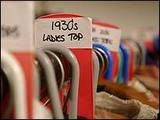 Looking for that Hawaiian attire for a certain Friday party or maybe for that 1977 look then I'm sure they can help you out.
Here at Wellingonista Towers the boys are already accessorising and the girls are eagerly awaiting the catwalk parade later on. If you see any of us buying Xena frocks, over sized and outlandish hats or SciFi silver knee-high boots, give us a smile and ask us for a twirl!
Where: Costume Cave 2
Where: Level 1, 233 Willis Street
When: now until Sunday 18th, 10am – 2pm
READ MORE

More info at Scoop: Cave 2 Clothing Exodus:
… the garments have been collected from many sources including Avalon TV studios, the Palama Dark Knight series, South Pacific Pictures (Xena), Downstage Theatre wardrobe, Wellington Theatrical Wardrobe and Access Art. This unique and valuable resource is one of the largest of its kind in New Zealand.

Due to necessity, Costume Cave 2 is holding a once-only sale. It's a rare opportunity to purchase from an incredible selection of vintage clothing and shoes dating back to the 1960s, '70s and '80s and by doing so, buyers will be helping keep the most useful parts of the collection available to the industry.