A Bit o' Berlin
Poster tells it all, really…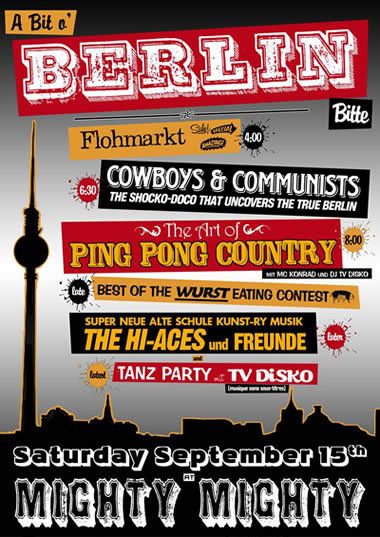 The good folk who brought you the Berlin Bonanza invite you to savour the sights, sounds and flavours of Berlin once more. Relive the city's ubercool vibe with the Saturday market, get the true Berlin with a mondo doco, dig in to hot'n'heapin' plates of currywurst, thrill to the heady mashup of ping pong and country music, groove to alt-country cowpokes channelling the Heimat, and finish the night with a flourish of Deutschland disco dancing.
Full programme after the break…
FLOHMARKT: 4 PM
A weekend in Berlin would not be complete without a trip to the fleamarket, where all the shopping scene action goes down. Snatch up forgotten kitsch or find that little gem you never thought you wanted but now you need. Come to where the Consumer is Koenig!
COWBOYS AND COMMUNISTS: 6:30 PM
At a corner restaurant in the heart of East Berlin, the lives of a die-hard Communist and an American Cowboy collide at the infamous bar, White Trash. The film Cowboys and Communists is the story of two clashing political systems, the reality of life behind the Berlin Wall, the collapse and aftermath of Communism, the tragedy of Bush's America and the difference between Sauerkraut and cheeseburgers. Features music by NZ legends Cortina. Director Jess Feast will host Q&A after the screening.
THE ART OF PING PONG COUNTRY: 8 PM
Your hosts MC Konrad and DJ TV DiSKO return to make the fantasy, your fantasy, all so real with a mix of honky tonk hillbilly tunes, ping pong action, and vodka-fuelled spruiking, all in a Rundlauf style. Get your game on!
BEST OF THE WURST FOOD CONTEST: LATE
Test your stomach's mettle. The eating contest that's about quantity and quality! A bottomless pit of locally-made sausage served up by a locally-made chef. See grosse appetites in gob-smacking food action. Wahnsinn! Side of Sauerkraut optional.
THE HI-ACES: LATER
Wellington's own Helden doing their thing to keep the country vibe alive. Bringing you the tastiest, twangiest tunes this side of the Welt.
TV DiSKO: LATEST
A man who brings you the world neatly wrapped in the trashiest, funkiest, poppiest pop packets. [Musique sans sous-titres], says the tag. 'Nuff said.
Entry $5