I'm a celebrity, get me into there!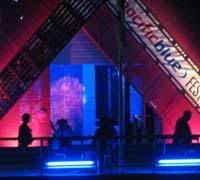 Despite some grumbles about the food and service (half-frozen pizza and disappearing rosé, anyone?), the Festival Club bar and café has been the place to be seen for certain sectors of society. So much so that a certain well-known (and very driven) architect was seen peering over the fence into the VIP section, with a look on his face that said "Why aren't I in there? Surely I'm a VIP?!".
He needn't have bothered. While one might hope for the VIP enclosure at the Festival tent to be full of famous artists, louche bohemians and nubile circus performers, in reality it's usually reserved for sponsors and guests, which in this case consisted primarily of lawyers and accountants in bad ties and plastic name tags. You'd find a more exciting crowd at St John's.