It's how we're drinking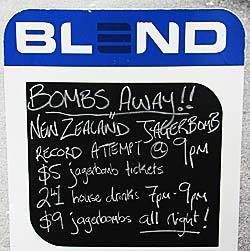 Good to see the local hostelries promoting responsible drinking: tonight, Blend are not only offering $5 Jägerbomb tickets, but are hosting a "New Zealand Jägerbomb record attempt" at 9pm. I really don't envy the street cleaners who'll have to deal with Wakefield St tomorrow morning.
Even those not tempted by such excess might sometimes dream about living in a bar. Well, here's the next best thing. The former Imbibe is being stripped out in anticipation of its redevelopment by the lovely Bresolin boys, and tomorrow from 10am to midday they're having a "bar garage sale", selling off everything from glassware and lampshades to tables, couches and "even the kitchen sink". So to relive the glory days of Imbibe (pineapples optional) at your own pad, get on down to Swan Lane and duke it out with the other punters in search of a bargain.
Many barflies say they'll die for a drink, but some take it too literally. At the newly opened Lagerfield, one unlucky punter found in their Martini an unwanted couple of garnishes in addition to the olives: two very dead little fruitflies. Worse, there was too much vermouth. Still, what a way to go. (And by the way, the staff were appropriately horrified and rectified the situation with aplomb, so I'd agree with CC Vince that it's worth checking out.)