Mystery bar!
In another of this shamelessly unoriginal series, I've just been stuffing my abdomen with seriously good snacking and some tasty cocktails at this brazenly Europhile little place.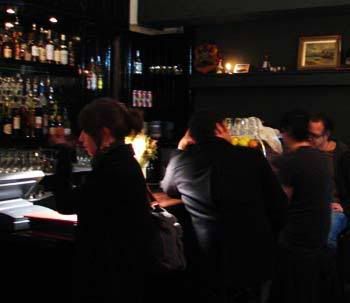 The wine list is designed to tempt you out of your vinous rut, since while each section is "inspired" by a style or varietal, it branches out from there into less obvious wines. For instance, the "Riesling" section also lists Grüner Veltliner and that unusual Moscatel/Gewürtztraminer concoction known as Viña Esmeralda. The cocktail list is extensive and inventive, including such delights as the "Spanish Inquisition": raspberry, cinnamon, amaro and Amontillado (I never expected that).
But it's the food that really stands out. You can have a full meal, but the concept is really a sort of pan-Mediterranean tapas, with moreish and occasionally Moorish morsels that include skordalia with Catalan "chastity bread", truffled Jerusalem artichokes, pistachio couscous and Ouzo-flamed saganaki. Combine that with pleasantly Old World décor, reasonable prices and some serious eye-candy among the waiting staff, and you've got a recipe for more than one happy barfly.