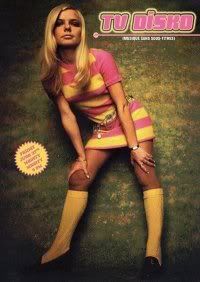 As you may have twigged by now, we likes us some Mighty Mighty. However, even we usually draw the line at spending two nights in a row there dancing our collective arses off and getting Real Sloshed Bitches. It's going to be hard to resist the temptation this weekend though, kicking off on Friday night with TV Disko and carrying on with the L.E.D.s on Saturday.
(more synthtastic goodies after the jump)

A little bird (well, Facebook, actually) tells us that this TV Disko night will be no ordinary one, as a significant birthday may be involved for Mr Geoff Disko himself. He'll no doubt be spinning an even more insane mix of "funky Scandinavian trouser rock, moog-flecked disco, cool Québécois synth pop" and god knows what else he's managed to snaffle from the op-shops of the world, so it's the perfect opportunity to let down your hair, inhibitions, and perhaps some other things.
Saturday might start off in a slightly more dignified manner, as the L.E.D.s are known for augmenting their indie synth beats with deadpan humour and knowing lyrics: they may not thank me for the comparison, but imagine the Pet Shop Boys signed to Flying Nun. Nevertheless, things have been known to get mighty sweaty up there in front of the stage when they play, and with live electrotech support from Heat Like Me to kick things off, who knows where the night might end up?