Mystery tiki
The Craftsman didn't take long to identify: not surprising given its prominent position. Here's another quick one, which should also be pretty obvious.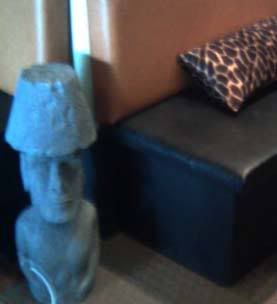 The Watusi pretty much counts as Wellington's first Tiki Bar, but this place has a few touches of tikitude as well. There's this little guy, of course, and the animal print cushion helps. It has a smattering of tiki masks and ukuleles, an outdoor area with lush foliage and torches, and most importantly, a drinks list titled "Tiki Cocktails". Heaven! Or is it?
On the downside for tikiphiles, it's really more of a café than a bar. It has counter food (as well as a full menu), takeaway coffee and disturbing signs of a (shudder) child-friendly attitude. The décor tends more towards Kiwiana bach nostalgia than Trader Vic exotica, and the music is more Beach Boys than Martin Denny. I also couldn't vouch for the authenticity of their Mai Tais and Fog Cutters, and what's this? No Zombie?!
Never mind: it's only tiki purists who would be put off by that. Sun, cocktails, food and a surprisingly good beer list: there's a lot to like here, and it's one more reason to look forward to summer.