Hollywood That Was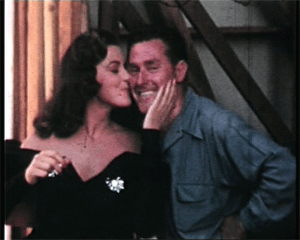 This very happy looking young man is New Zealander Ron Tonkins (pictured with Margaret Chapman) who travelled to Hollywood in 1946 and worked as a publicity photographer.
Interesting thing is, during his time in Hollywood he shot reels and reels of Super 8 film footage like any usual tourist. Completely Bizarre thing is, he had unlimited access to the stars of the day and the major Hollywood lots (including Hopalong Cassidy). All without a security guard in sight.
Come and watch this "backstage" look at Hollywood, shot by a plucky Kiwi and narrated with his own recollections, "Here's Marlene Dietrich and she's asking me, 'What's New Zealand like Ron?' ??!?!
I kid you not, this rare record of Kiwi ingenuity must be seen to be believed.
Screening Thursday 12 and Friday 13 March, 7pm. FREE ADMISSSION at the Film Archive.