Urban isolation
Terry Urbahn has spent a lot of time in bars and hotels – just the kind of guy we love here at the Wellingtonista.
He has an exhibition of selected works from 1994-2008 on show at the Film Archive mediagallery until 9 April, with the opening taking place tomorrow – Saturday 14 March at 5pm. This is a bit of a departure for the gallery. A weekend opening!
Come along and start your Saturday night right with a tipple and some great art – photography, video work, diorama and sculpture – by one of Wellington's favourites. Everyone is welcome to celebrate this launch.
All of the work was made during Urbahn's time living in Capital City (he currently lives in Sydney) but it's the first time it's been shown here…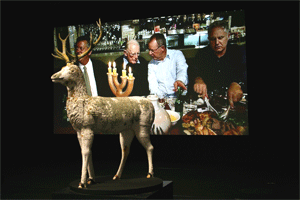 including the spectacular work The Sacred Hart (pictured) which is on display by special arrangement with Auckland Festival.
[Image courtesy of Govett-Brewster Art Gallery, New Plymouth]