Craft2.0 is all about the Free
We all know Craft2.0 is very much a shopping mecca for those who love handmade.
But Craft2.0 is not just another craft fair, it's also an all-day crafting party. Thanks to Hutt Valley Community Arts you can unleash your inner crafter with an entire dedicated space set aside for freestyle making. Share your ideas and learn from others in a laidback and relaxed environment that's 100% free.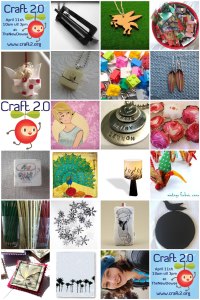 Turn up at 10am and you might be one of the lucky 100 people to win a free Cafe Reka Gift bag. Inside are tasty treats from Cafe Reka and a heaps of crafty and yummy extras.
But don't worry if you miss out on a gift bag – until 2pm you can enter the prize draw to win loads of beautiful things from the Craft2.0 Crafters, TheNewDowse, World Sweet World and Felt. Added up it comes to about $100 worth of crafty goodies.
There will also be free face painting!
So get your shopping shoes ready and come along for a stress-free day of local craft and fun activities. All stalls accept cash, or CraftCash is available on the day. Remember to check out TheNewDowse exhibitions while you're here, and stimulate your own creative impulses. See www.craft2.org for crafter profiles and blog updates.