A ray of sunshine in a wet and windy July
It's time for the Craft 2.0 Winter Warmup. Whether you want fully-formed hand-crafted gifts and homeware, or the supplies and advice to make 'em yourself, all your craft essentials are available under one roof when the most popular craft fair in town hits the Hutt at TheNewDowse on Saturday 25 July.
Join New Zealand's homebased handmade revolution and shop local. Why? It helps the environment by reducing your carbon footprint, and it keeps your hard-earned money in the community.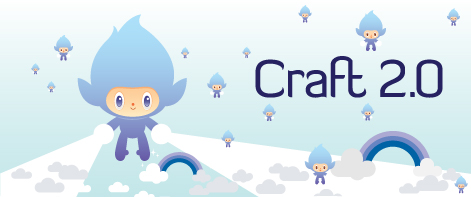 Craft2.0 is not just about shopping – visitors can learn the tools of the trade in the Cafe Reka free make-and-do areas. Kids and adults – craft your heart out producing party pennants (decorative flags) from vintage wallpaper. This project lets you make use of those random remnants laying round the house that you feel too guilty to throw in the bin but don't know what to do with!
The other hands-on DIY area is the knitting lounge, where members of Outdoor Knit will spend the day knitting up a storm. These seasoned needle fiends will be sharing their addiction – if you feel like giving knitting a go, this is your chance to get hooked.
During the fair, Teza Tea [warning: bandwidth-needy Flash website] elves will be offering free iced tea tastings to sooth your soul and enlighten your taste buds.
The first 100 people through the door at 10am receive a FREE CraftRunner gift bag stuffed full of goodies from our crafters and sponsors. These bags are a hot ticket so make sure you arrive by 10am to score yourself some free swag! Inside you'll find Teza tea, Cafe Reka fudge, a calendar, and bonus treats from:
freckled spec
esther
sarah mac
Silver Circus
Ammundesign
Susan Whitburn
bad animals
The Craft 2.0 Winter Warm-up prize pool is also bigger than ever – everyone can enter the draw to win two boxes of crafty creations.
Along with the Wellingtonista Craft2.0 is launching a super special Craft competition in association with Snapper, where you get to win some amazing prizes (including a free stall at Craft2.0 October) just by being creative
So we'll see you at Craft2.0 this Saturday.