Review: Le Sud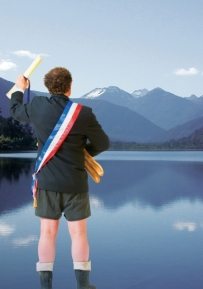 If you've visited Akaroa, you'll know how the li'l Canterbury village prides itself on its Frenchness. See, it was founded by the French.
Dave Armstrong's new play "Le Sud" takes the idea of the French in Aotearoa a few steps further – ce qui si le français avait colonisé l'Île du Sud?
Uh, I mean, what if the French colonised the South Island?
The comedy is set at a political meeting, with the Kiwi-as North Zealanders paying a visit to their Gallic southern neighbours to see about buying some of that electricity they have an abundance of.
We meet the sleazy South Zealand prime minister, his lesbionique deputy, and their minister of native affairs, who'll do anything for a dollar. Or a franc. And if you've learned a bit of French in school, you'll be able to feel clever throughout their opening dialogue en français.
The North Zealand team are lead by the good ol' Kiwi bloke PM, and his coalition partners – a very left-wing Maori woman and a very ACT-like young dude.
The story manages to be quite naughty at times – much more naughty than you'd get on the telly – and the cast are brilliant with both the verbal and physical comedy.
I will also praise the bold, effective costumes by Nic Smillie. It's kind of nice knowing that New Zealand political culture can be summed up in three well chosen suits.
And when all this comes together, Dave Armstrong's pen of lolz manages to skewer French, Kiwi, Maori and political culture, throw in a bit of sex farce (Oh-haw-haw! Baguette!), and produce a really fun, funny play.
"Le Sud" plays at Downstage until August 22.