a tiki tour of craft fairs
There must be something about spring, and craft fairs as this saturday has 3 crafting events on in our fine city.
Make your first Craft destination Berhampore school from 9.30am, it's home to wellington's popular seasonal fair, knack. Knack's been running since 2007 and there are 3 things I truly love about Knack:
Knack is run as a fundraiser for berhampore school
Knack is often where you will see some of Wellington's emerging Crafters show casing their crafts for the first time
There is a lovely laid back vibe at every knack, which makes it a lovely destination for some crafty culture.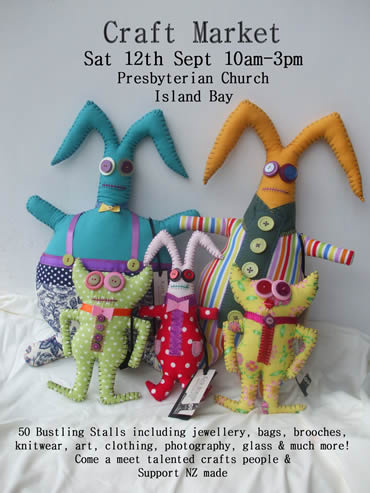 Once you've checked out spring knack in Berhampore head further down the road and you'll hit Craft Village in Island Bay.
Home to about 50 Crafters, Craft village is a monthly market featuring local crafters like Kate Burgess of Stitch Lips whose quirky creations are featured on the Craft Village Posters.
Rest up overnight and then head out to the long established Annual Pinehaven Arts and Crafts Fair at Pinehaven School Hall, Pinehaven Road, Upper Hutt.
It is not a 'sit at your stall' type of fair more like a gallery where, everything is set out on walls, and display tables. The school hall looks very unassuming from the outside but once you get in it's an eye opener. The event is a fundraiser for Pinehaven School, so just like spring knack you can do some shopping and feel like you are helping make the world a better place.