Under the Southern Cross
A safe place to avoid all the ghouls and zombies this Saturday night will be the Film Archive cinema.
A brilliant silent feature film from the 1920s – Under the Southern Cross – is screening with live musical accompaniment by Warren Maxwell, Maaka McGregor and Himiona Grace.
This "Maori folk drama" made by Universal Studios in 1929, features an epic love triangle, cave scenes shot on Waitomo and White Islands, a fiery volcano and 'A Contest of Spears'. It's also worth coming to see for the intertitles alone.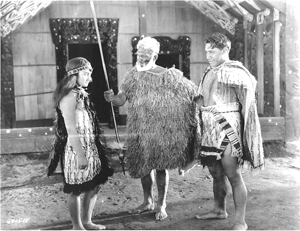 "Neither tribal custom, danger nor the sacred ban of "tapu" could covercome the strength of his love"
Limited seats available. Tickets: $10