T4WA nominees: Best Place to Shake it
Voting in the Fourth Annual Wellingtonista Awards is open from December 1-15. Then come find out the results at our Awards Night at Mighty Mighty on December 17!
To vote, visit this page.
We're fans of conversation, but sometimes we just want to shut the hell up and dance. These are the places that we go to dance our cares away.
Boogie Wonderland: Most of the Wellingtonista would never be caught dead walking through the front doors of Boogie Wonderland. However, when having a quiet drink at Alice, more than one of us are known to sneak through the side door and have a quick secret boogie. There's something about the light-up dance floor that draws us in, as well as the knowledge that you'll know every single song that they're playing. And besides, the crowd's totally from the Hutt, so it's not like they can judge you.
The Garden Club: Those amongst us who went to plays or drama lessons at the old Repertory Theatre are still a bit freaked out that it's become a night club, but by providing three separate spaces, The Garden Club manages to cater to a lot of people. What used to be the theatre now plays host to dance music, often of the drum 'n' bass variety; the old Green Room is now a bar opened up to the air for smokers; and the top floor – the old rehearsal space – is now a gay club where older patrons feel right at home.
Mighty Mighty: If variety is the spice of life, then that explains why MM is so spicy. Or lively. Four nights a week there are four very different gigs at Mighty Mighty, and under the huge disco ball the many different types of Wellingtonians shake it out together.
San Francisco Bath House: It's justifiably famous for its live gigs, but the regular Atomic and 24 Hour Party People nights also bring in a diverse crowd for whom '80s and '90s music means more than predictable top-40 songs. This is a place custom-made for dancing, and while the sound system may not be the best in town, the sounds themselves are the big drawcard.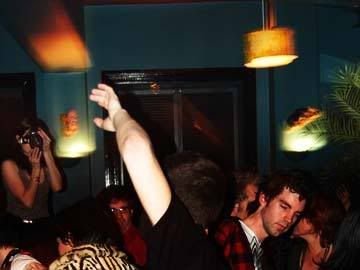 The Watusi: Much of the Watusi is given over to comfortable seating, so their dance floor space is pretty limited, especially if there's a live rockabilly-ish band playing, as there often is. Despite this – or perhaps because of it – the floor is one of the most lively happening places to be, as the pretty hipsters shake and shimmy and jive way into the night, propelled by rum and community.