T4WA nominees: Wellingtonian of the Year
Voting in the Fourth Annual Wellingtonista Awards is open from December 1-15. Then come find out the results at our Awards Night at Mighty Mighty on December 17!
To vote, visit this page.
Our nominations for Wellingtonian of the Year are all people who make our city a brighter, better place to live. Their contributions are as varied as Wellington itself, and we're so proud of them all.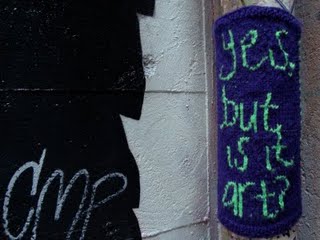 Styx and Knitsch of Outdoor Knit: Styx and Knitsch took knitting onto the streets and made the town a brighter place. Some of their projects included the "It Will All Be OK" fence, beautifying a Vivian Street chain-link with hearts, sprucing up a grove of Cuba Mall trees during Carnival, and encouraging people of all ages to pick up needles and give it a go themselves.
Chris Morley-Hall: Wellington wouldn't be Wellington (or at least not the fun, colourful, creative Wellington we like to think of) without the Cuba Street Carnival. And we wouldn't have the carnival without Chris Morley-Hall and his party-power genius.
Matthew Wilson: This young thing of boundless energy has had a tough year. His cafe burnt down (Maranui) but the rebuild is happening – HOORAY! Wilson started early, setting up Deluxe Cafe when he was just 19 and his entrepreneurial spirit will not be dampened by some flames. His staff love him and he's created some of the best spots in town for Wellington's creative types including these guys, while also giving many of them jobs! Matthew Wilson, we salute you!

Martin Bosley for the City Market: Martin Bosley is a man who knows a thing or two about good food, and many people were very happy when he (along with Rachel Taulelei) founded the City Market. A perfect compliment to the fresh produce at the neighbouring Waitangi Park Market, City Market is a splendid way to spend a Sunday morning.
Stephanie McIntyre: Looking out for those people who are unable to look after themselves: it's not glamorous, it's not high flying but the work that Stephanie and the extremely dedicated team at Downtown Community Ministry do moves us to the core. They help those in Wellington who are most in need and most in risk, and with the Street People project and Project Margin they make a difference in people's worlds. Then DCM goes around and make it easy for us to give with their annual bookfair, where thousands of us buy boxes and boxes of books – and the result is our shopping makes people's lives better. Stephanie and the team at DCM make the world a better place.