Night Noms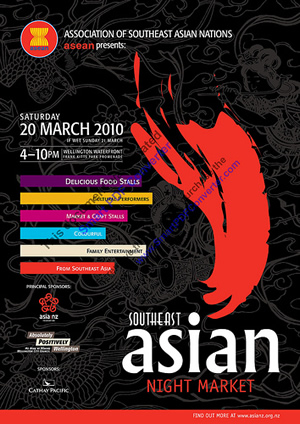 Anyone who has been down to the waterfront this week would have seen a large rusty barge parked in the lagoon and a bunch of scaffolding and marquees going up. You may well be wondering, "what the hell is all of this in aid of?"
Well gentle reader, today for one day only, the area around the lagoon and Frank Kitts Park is being transformed into a slice of Asia (well about 10 or so slices of Asia) for the Southeast Asian Night Market. The market opens with a cannon blast at 4pm and finishes up at 10pm.
This is only the second time the market has been held in Welly, and the big difference is this time they are cooking with gas, outside, live and direct. Last time it was held in the TSB arena and lines snaked across Queens Wharf for hours so prepare yourself for Cuba Carnival style crush. Get in amonst the sights, sounds, smells and not forgetting for a second, the FLAVOURS of a real deal night market. Yes, I did just use caps. I know that is bad manners but I have seen the menus on offer and I have to say both "whaaa?" and "nom" in equal measure, which is exactly as it should be.
Programme details and highlights after the jump:
Beer tent selling Beer Chang and Saigon 333
Taste sized portions of food you would be hard pressed to find on any menus around town
Indonesian puppetry with gamelan orchestra
Live music and dancing on a floating stage
Faux fireworks
Martial Arts demonstrations
National costume parade with lion dancers
Programe and more information at AsianNZ's website here and here.