Culture Kicks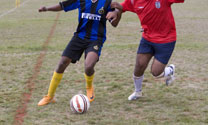 This Sunday 28 March there is an international celebration of the beautiful game going on at Martin Luckie Park, Berhampore 9am – 5pm.
Culture Kicks is a multi ethnic football festival with five-a-side teams from Wellington representing countries from around the world battling it out on the pitch for a chance to take home the 2010 trophy.
There will be Columbian dancers, African drumming, music from Matiu Te Huki and Lion dancers from the Chinese Sports and Cultural Centre.
The day kicks off with Bella Kalolo singing the New Zealand National anthem (the woman has some pipes!) and prize giving will be at 3.45pm.
With around 40 teams representing over 20 countries you don't have to pick just one team to support. A few team names to give you the flavour of the day: Havana Hustlers, Tartan Army, Unity Arabs, Somali Eagles, Los Decadentes, Korean White Angels, West African Kiwis.
There will be healthy foodstuffs on offer from the Hari Krishnas, so all you need are your chants and some sunblock (well let's face it, you should probably bring a raincoat too, this is Wellington after all).