Predictive Bussing
We've long dreamed of being able to time our morning cornflakes to the actual arrival time of our bus, rather than having to wait 20 minutes outside a jammed bus shelter during a howling southerly storm.
The dream goes a little like this. You're having your coffee and your phone softly blips. You look down. A message says your bus is 3 minutes behind schedule and will be at your stop in exactly 8 minutes. You have time to finish your coffee before you grab your coat and go. And you arrive at the bus stop at exactly the right time.
Luckily for us this is, in time, becoming a reality.
Read on to to find out why…
Last year the Regional Council contracted UK firm ACIS to provide a system to cover all the public transport, including trains, across the Greater Wellington area. The acronym you'll hear lots of around this is "RTPI": real time passenger information.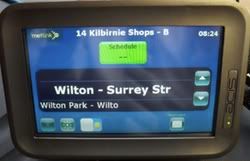 It works like this. Every thirty seconds, a bus equipped with the RTPI system will send its GPS location to the central controller. This data is mashed up with information on routes and traffic conditions to generate arrival time estimates for the stops on the bus route; and these times may be displayed on one of 250 display boards to be installed in busy bus stops around town. The data will also be available through the Metlink website, Google Transit, and hopefully (though unfortunately this is not assured) through some sort of programmers' interface that local developers like Nick (who makes the very cool Wellibus application) can easily build on.
Meanwhile, next month there'll be a pilot installation on the Number 14 route. Sadly though there won't be much to see just yet – only a test board reporting the times of the pilot buses up in the Regional Council offices.
From September it's anticipated that more buses will start to be equipped (see photo), and data from these will become available, rolling out across the entire fleet of buses through to September next year.
And then at last: not only will we have finally caught up with Christchurch, but being wet and cold need no longer be our penance for our commitment to using public transport.