Joel Salom's Gadgets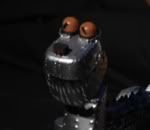 Bizarre uses for ping-pong balls, megalomaniac robot dogs, fire juggling, and a healthy dose of audience participation are just some of the ingredients in Joel Salom's Gadgets, which opened tonight at Downstage as part of the Comedy Festival.
It's a mixture of accomplished physical comedy from Australia's Joel Salom, backed by Marko and Jim, a couple of very talented musician-performers who, from time to time, become part of the action.
There were plenty of laughs for the entire family. Our youngest was in hysterics as early as halfway through the opening sequence—those ping-pong balls—and by the end our eldest was bouncing up and down in her seat in a sort of humour frenzy.
Good for adults too? We thought so. There's some great slapstick humour, some truly brilliant juggling performances and lots of laughs. And there's a few slightly risqué lines here and there which point the way towards the adults-only shows later at night this Thursday and Friday.
On the other hand perhaps it was was a little uneven in parts and some of the gadget sections went on a little long for my liking; but in some ways the diversity of performance styles was a strength.
For example, the most memorable sections for the children weren't, as I had expected, the physical comedy pieces or the juggling. The eldest loved the section with Erik the Dog (which is to be expected, since she was called up onto the stage to assist) but the youngest was a huge fan of the JAMIDI show (a "Juggling Assisted Musical Instrument Digital Interface" – another of Salom's gadgets) – clearly she's a sucker for big beats and laser shows. Should I be worried?
Everyone should find something in this show to have them dabbing away tears of laughter at least once or twice.