A fair weekend ahead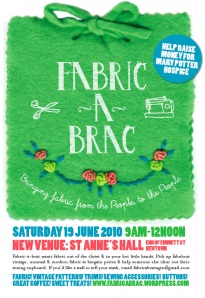 If you haven't recovered from Craft2.0 last weekend, make sure you do by Saturday becuase it's Fabric-a-brac time again.
The event is being held at St Anne's Hall in Newtown on Saturday 19 June from 9am – 12noon. It's all put together by the amazing Josie who who describes Fabric-a-brac as "bringing together fabric-lovers, who have too much fabric, with others looking for a unique bargain".
Fabric-a-brac is a dream wonderland of awesome for crafters, sewers, and makers. It's full of fabric, buttons, notions, supplies and anything your crafty heart can dream of.
There are some exciting new stallholders at Fabric-a-brac, including:
Stitchbird fabrics, who right now is running a marvelous auction to raise funds for Mary Potter Hospice over on her blog.
Absolute Sewing are coming to the rescue of all crafters with blunt scissors, which is most of us. They are offering scissor sharpening, and since Fabric-a-brac is not NZ Customs, you can bring your scissors alsong to the fair for sharpening.
If that doesn't bring joy to your life, next weekend is Knack Craft Fair. They've got a new venue as well, Wellington South Intermediate Hall. But more on all things Knack next week.