In 1895, an elderly, ill Mark Twain embarked on a world lecture tour, in order to earn enough money to pay back the $100,000 debt he held. The tour took him down under, including a visit to Whanganui. And it's this event that Mark Twain and Me in Maoriland takes its inspiration from.
After its premiere at the New Zealand Festival of the Arts earlier this year, the play returns for a short run at Downstage.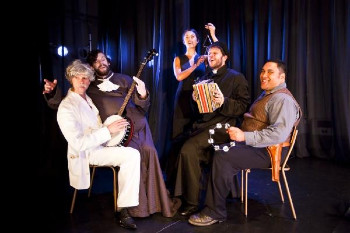 The play supposes that Mr Twain took a rather more active role in local politics, inflamming the Pakeha, and both pro-European and anti-European Maori alike.
But this is no staid historic drama. The play has lashings of te reo Maori – sometimes translated, other times not, but you're clever so you can figure it out from the context. And there's a pleasing amount of song and music, with Mr Twain strapping on an electric guitar at one point, to join in on a blues number.
Playwright David Geary's innovative script has moments of high comedy, yet with the power to get right down into some really gritty emotional moments. But what I really enjoyed the most was how New Zealand this play is. I'm sure all the places Twain visited on his 1895 tour have their own stories to tell (or make up), but it's just really satisfying to see an inventive, entertaining play like this that's come out of New Zealand.