Capital Fetish Ball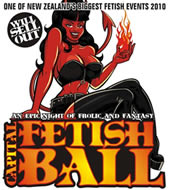 Once again, we are leaving it waaaaaaay late to let you know about an upcoming event. In this case, it's the Capital Fetish Ball:
The wildest performers from around New Zealand will collaborate at the Garden Club on Saturday 28 August 2010 in the kinkiest, most mesmerizing exhibition of the erotic Wellington has ever seen.
Wellington's very own fetish ball will be a feast of flesh and fantasy. Expect wild performances, sassy spectacles, and Las Vegas grade entertainment.
Costumes are a must, so we suggest checking out Wildilocks at 225 Cuba Street to get yourself a corset or something similar…