Pecha Kucha 8: The Latino Connection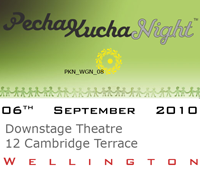 It's time for another Pecha Kucha Night, but this one is a little different from previous ones – this time it's the Latino Connection!
People who have come from or gone to the spicy side of the South Pacific will share their stories. Like all PKNs, there's something for everyone.
El Line-up:
Bella Kalolo – Singer/Entertainer – Lost In Paraguay
Warwick Murray – Musician – From Birmingham Days to Santiago Nights
Amelia Lobo Martinez – Journalist – La Apasionante Historia De Manuel Jose
Alda Rezende – Singer – Minas Gerais State, Brazil
Natalia Parra – Artist – Wellington Through the Eyes of a Colombian Artist
Cori Gonzalez-Macuer – Comedian – How to be Funny in Another Country
Katia Guiloff – Documentary Maker – Musicircus
Alice Hang – World Citizen – Perceptions
Irene Morales – Guatiwi – The Curse of Dr Ropata
Rich Dunmore – Media & Animation Specialist – Tres Amigos
Carlos Navarrete Aka "Carlos Navae" – Musician – Acapulco Soul Machín
María Marquez De Satyanand – Educator – A Work in Progress
This Pecha Kucha will be held at Downstage Theatre, Monday 6 September.
Doors open at 6.30 with a 7.30 start. Tickets are $9 on the door, cash only.