It's Saturday so it must be time for Craft2.0
It's Craft2.0 Day!!!
today October 29th 2011 from 10am till 4pm
Craft2.0 has packed it's bags and moved from the Hutt to Wellington City
and can now be found at the same location as City Market, Undercover in The Atrium, Chaffers Dock Building,1 Herd St, Wellington,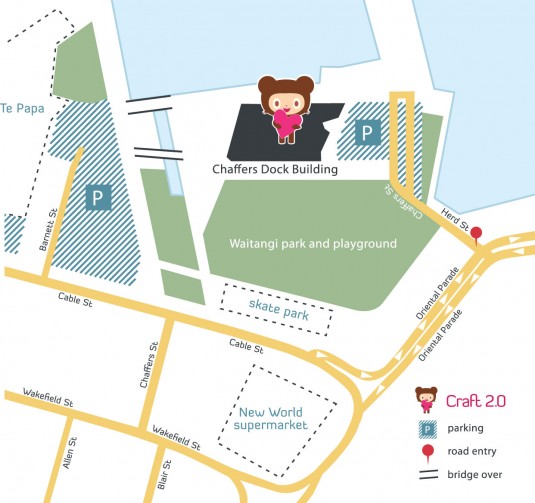 It's the commitment to New Zealand-created, independent design that sets Craft 2.0 apart. Everything at Craft 2.0 is made or designed by the person selling it. The sellers are carefully selected to get just the right mix of favourites and new faces to ensure the fair is chock-full of handmade goodness.
Here's some things to help you plan a Grand Day Out
Entry is Free
Spot Prizes are handed out to shoppers all day long
All stalls accept Cash & most accept CraftCash –

here's more on Craft Cash

Bring along a non perishable item of food for the

DCM food bank

and enter a draw to win a huge swag of craft

CraftHouse

is hosting kids Crafting all day long
Best spot to Park is the Barnett Street car park, it's $9 for a whole day.
Make it a weekend of Artisan awesomeness and visit the

City Market

at the Atrium on Sunday
All the restaurants and cafes surrounding Craft2.0 will be open so there are LOADS of places to get food. We highly recommend the Coffee and Gelato at the Empire Skate shop
In the near vicinity is Waitangi park  ( complete with kids playground, and skate park) and Te Papa so why not plan a day out
To help you navigate around the fair you can download this nifty map of stallholder locations
Please note there might be some slight changes, but just roll with it. It's not really craft2.0 unless you visit all the stalls at least once. Plus we hear  Craft2.0 are handing out shopper maps as you arrive.
But here's the link to a printable A4 pdf in case you'd rather have a map on hand