Get creative for Queen's birthday weekend
Typically a Wellingtonian makes haste for the nearest airport or road come Queen's birthday weekend, but the reverse is starting to happen for those of a creative bent as Handmade happens for the second year in a row. Handmade is home to all sorts of making related things – from cooking to crafting they are covering all basis at three venues around town, with home base at Te Papa.
My pick for the weekend is hanging out at The Holland Road Knit Lounge, located in the Oceania Room all weekend. Of special note is the Ravelry & Twitter Meet Up on Saturday from 12.30pm – 2.30pm. It's free to one and all.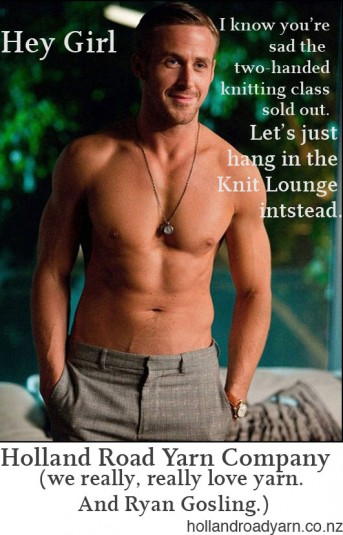 Read Aucklander Gemma Stewart's thoughts on Handmade after the jump.
It was a cold, wet day and I had spent the better part of my afternoon under a blanket and on the Internet. I was on a bad weather day mission and I needed to transform a dress of mine that had seen better days.
I could have donated it to charity but I couldn't part with it. I had visions of turning my out-dated dress into a new and improved McCall's something-or-other and wowing everyone.
I typed 'handmade' into google and was trawling, when my browser delivered what could only be a gift from the web-gods onto my screen: The Wellington Handmade Festival – and it was on this weekend!
The first thing that caught my eye when I clicked the link was the textured fabric-like design and features, the adorable and very clean layout and what looked suspiciously like unique font for the title. I kept digging, flicking past the many exciting-looking classes on offer and forcing myself to stay focused until I found what I was looking for.
And then, I saw it. The upcycling and refashioning class which promised to "Give your wardrobe a new lease of life!" That was exactly what I needed!
While the rain came down, I was creating a dream list of all the workshops I would attend. Jewellery making, cake baking, icing and decorating classes, cheese making (be still my beating heart!), wine tasting, understanding craft beer (hmmm, here's a list of taxi companies, just in case), a curds and cordials class… I started drafting a little weekend planner on my sketchbook and was even writing down classes for a friend of mine (who loves cheese with a passion only seen very rarely) to come along to.
The tickets were very well priced: $299 for an entire weekend which included up to 8 classes, or $95 for a 'twice as nice' pass which included 2 classes and 2 lectures! I could go and not be broke (and be very well dressed) by the end of it.
There were other options too, so it looked like you could pick and choose to suit what you wanted to learn; with single workshops ($45), double workshops ($90) or a 50 minute lecture for $10. The whole weekend pass included a 'Meet the Makers' party, but you could even buy tickets just to that it you wanted to.
I had decided that there was no other way that I wanted to spend my Queen's Birthday weekend, and I began to click through to buy a ticket, when I realised something. I wouldn't be able to go to this festival. No way. It was just not going to happen.
Why? Well, I um… I live in Auckland. I was (foolishly) assuming that something as amazing as this must be running in Auckland. Alas, Wellington. You have left a girl broken hearted (and possibly broke), as there's nothing for me to do except hop on a plane this weekend and head to Handmade 2012. Rash? Possibly. Worth it? Totally.
My dress (and I) will thank you for it.