Cake, Cronuts and Creativity
So in the first of my (intended) weekly reminder of Wellington foodie gems, I'm thinking back to dinner at the new WBC restaurant and bar from the Capitol folks (upstairs on Victoria above Tatsushi), and Saturday's double breakfast of cake followed by cronut (did I mention the slightly sweet tooth yet?).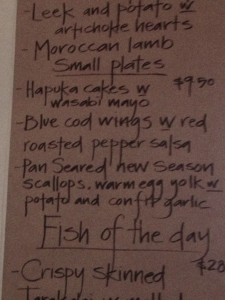 So, WBC.  Named for the building it's housed in, the 1920's Wholesale Boot Company, we didn't uncover any secret caches of old leather but did find some creative small plates, an interesting main or two, and a couple of impossible-to-say-no-to desserts.
I'm not convinced the price point is quite right on the mains but the tasting plates hit the mark (new season scallops on egg yolk with potato and confit garlic anyone?), and the desserts delivered.  There's a small standard menu enhanced by a daily roll-call of chef's extras.
Currently they're doing daytimes Monday to Saturday and pre-theatre dining while seeing how the evenings go (so plan to shuffle off by about 8pm).  Overall, tasty food and a good place to stop for a drink and nibble on the way to somewhere.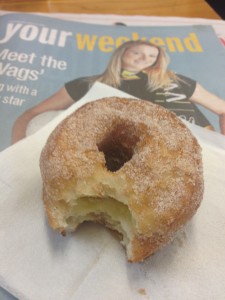 The sweet double downer breakfast started as part of the weekend amble.  Who could resist Arobake food directly from their bakery?  Not me, and clearly not the other 20 people also trying to cram themselves in at the same time.  So coconut and passionfruit mini cake it was, with a perfect blend of butter, lightness and a sweet finish.  AND a challenge on their blackboard for next time – 'Best custard squares in Wellington, taste for yourself…'  Could it be true?  A mission coming on methinks.
And not so terribly long after, a stop at Moore Wilson for the new cronuts from Bordeaux – a donut made with croissant pastry.  Crusty, sugary and sweet, with a surprise custard layer inside.  Nothing more to be said really, other than be early or go without.
Until next week….