Baghrir and Maamol
So this week I'm extending my Mediterranean food knowledge, courtesy of Lazeeza (Arabic for delicious) on Dixon Street in the former Simply Paris premises (beside Dixon Street Deli). Turkish, Lebanese, Greek and North African offerings, to name but a few.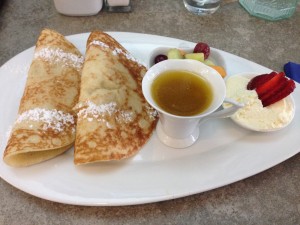 The cabinet food was educational and the brunch menu offered a few different twists (brioche french toast with bacon, red peppers and fresh mozzarella; baghrir – see below; spanish omelette with diced chorizo, potato , capsicum and onion filling) as well as several traditional kiwi options.
Baghrir are North African yeast leavened (lightly spongy) semolina pancakes with orange blossom honey butter (a well balanced syrup not too buttery, not too blossomy and not too sickly sweet), which got the thumbs up.
The savoury French toast with mozzarella and roasted sweet capsicum on top was judged 'not bad', a definite accolade from him of little effusiveness.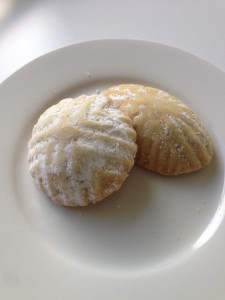 And Maamol (yep spelt that way at Lazeeza) are stuffed shortbread.  So a date one and walnut one accompanied us home for dessert (I did share, honest!).
The décor led me to think Greek Island (blue and white with island pictures), the detailing on the water bottles was suitably elaborate and the staff were friendly and willing.
These guys are doing $13 mains Mondays to Fridays, so you shouldn't go far wrong at that price for sampling something non-kiwi.  Even at the full menu prices, most dishes seem to be pretty good value.
I shall definitely be going back to explore that cabinet further sometime (maybe after an early morning walk to justify the sugary deliciousness….)