Curl up with a good Bookfair
It's true i get excited by books, and every year i get excited by the Annual DCM Bookfair,  which lucky for my excitement meter (which dipped a bit post film festival) is on this weekend. At The DCM Bookfair you'll find over 90,000 books Books, Magazine, Comics, Graphic Novels,  jigsaw-puzzles, games, DVDs, CDs, Vinyl Records, Stamps ….

TSB Bank Arena, Queen's Wharf,
Saturday August 16th from 9am till 4pm
Sunday August 16th from 9am till 4pm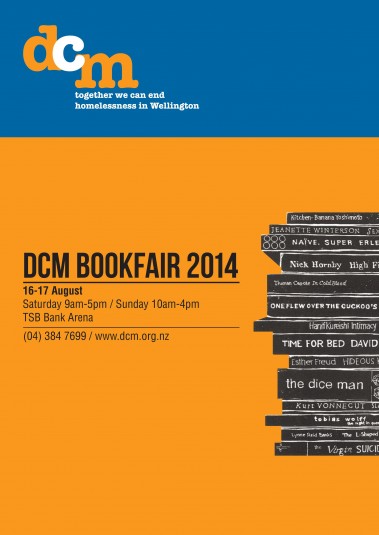 The great thing about shopping at DCM Bookfair is that you shop, you spend money and ALL that money go directly into help the most vulnerable people in out City.
Each week DCM works with some 150 people, supporting them to make dramatic changes in their lives. Most of these meet the New Zealand definition of homelessness or are at risk of homelessness, so DCM works with them to find housing, access their correct benefit entitlements, manage their money, and connect with family and a range of
health and other services.
So when you buy a book, or in my case many books you are making a difference in the world, making our city a better place. When you buy something at DCM Bookfair you are helping them reach their longterm goal in ending homelessness in our city.
Not into books and things? Well you can still support DCM, either by donating to the food bank, or maybe think about making a cash donation. You can do so online at givealittle.