Nominees for the 2014 Capital Awards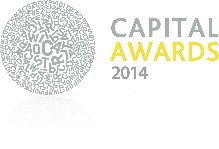 This afternoon we popped down to Vivo for the annoucing of nominees in the 2014 Capital Awards -Wellington's premier hospitality awards. It was a pretty casual affair, with many of the nominees hard at work and therefore unable to front to receive their certificates. Still though, it was great seeing so many Wellingtonista favourites get recognition.
Voting in all these categories is open to all hospitality staff via the Capital Awards website. How they can tell if you work in hospitality or not, I don't know. The Awards are on October 26, with tickets on sale on October 1. You know that hospitality staff party hard, so start preparing your liver and loins now.
After the jump, here's the list of nominations.
Menumate Outstanding Maitre d'
Davey McDonald – Ortega Fish Shack
Sophie Garnham – Monsoon Poon
Holly Gulliver – Havana Bar
Rob Scott – Charley Noble Eatery & Bar
Möet Hennessy Outstanding Chef
Tom Hutchison – Capitol Restaurant & WBC Restaurant
Shaun Clouston – Logan Brown
Jacob Brown – The Larder
Glen Taylor – Taylors on Jackson
Whittaker's Chocolate Outstanding Supplier
Ontrays
Red + White Cellar
Mineral Wines
Cuba St Fruit Mart
Bidvest Foodservice Outstanding Emerging Chef
Fred Gregerson – Havana Bar
Jack O'Donnell – WBC
Olivia Bartley – The White House Restaurant
Helen Turnball – Hummingbird Eatery & Bar
Negociants NZ Outstanding Front of House Team
Havana Bar
Ortega Fush Shack
Prefab
WBC
Toops Wholesale ltd Outstanding Local Establishment
Monterey
Goldings Free Dive Bar
The Speights Ale House, Petone
The Hop Garden
Beam Suntory Outstanding Bar
Havana Bar
Crumpet
CGR Merchant & Co.
Goldings Free Dive Bar
Deloitte Private Outstanding Barista
River Villi – Café Polo
Tim Norris – Customs Brew Bar
Lauren Carmichael – Customs Brew Bar
Morgan West – Milk Crate
Ara Wines Outstanding Wine List
Vivo Enoteca Cucina
Avida Bar
Charlie Noble Eatery & Bar
Arbitrageur Wine Room & Restaurant
Meadow Mushrooms Outstanding Casual Dining Experience
Monsoon Poon
Ombra
Little Penang
Scopa Caffe Cucina
Crombie Lockwood Outstanding Restaurant
Taylors on Jackson
WBC
Charlie Noble Eatery & Bar
Logan Brown
Pernod Ricard Outstanding Bartender
Giancarlo Quiroz Jesus – Hawthorn Lounge
Renwick Boon – Crumpet
Ben Simpson – Ancestral Garden Bar & Restaurant
Sam Kopua – Boulcott St Bistro
Best Ambience & Style
Charlie Noble Eatery & Bar
Hawthorne Lounge
Dragonfly
Ombra
Caffe L'Affare Outstanding Sales Representative
Josh Lynex – Red + White Cellar
Amy Alexander – Pernod Ricard
Stephanie Reid – Mineral Wines
JP Henderson – Regional Wines & Spirits
Posboss Outstanding Café
Ti Kouka Café
Prefab
The Hanger
Fidel's Cafe
Le Cordon Bleu Outstanding Contribution to Wellington Hospitality
Blair Fryer (from Vivo)
John Lawrence (Co founder of Boulcott St Bistro)
Martin Bosley (Umm, we gave him a TAWA yeaaaaaaaars ago…)
Steven Scheckter (Ontrays)
Outstanding Beer List
The Malthouse
Little Beer Quarter
Hashigo Zake
Goldings Free Dive Bar