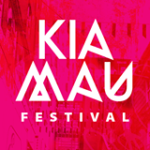 Eight companies perform eight productions over three weeks in the Kia Mau festival of theatre and dance. Matariki is the perfect time of the year to indulge your senses with world class theatre and dance hosted by BATS Theatre, Te Papa, and Circa Theatre.
First up (tonight!) is Versions of Allah presented by contemporary indigenous theatre company Ohokomo. "Versions of Allah whizzes its audience around the world and back again as cousins Chisholm, Melanie, Dr. E. Bunton and Vicky reconnect to their staunchly Catholic Samoan Grandmother living in Wellington NZ. As they stray far from the Pacific…these girls still manage to reveal what makes them intrinsically Samoan and intrinsically human." First seen at the Matariki Development Festival 2015.
Next is the spectacular looking The Vultures presented by Tawata Theatre. I love the poster for this and can't wait to see Sister Nurse Hinemoa and her siblings, Magazine Magnate Atawhai and Prodigious Businessman Petera, work their way through expanding the empire – even if it means destroying the world in the process.
Also this week is Shot Bro – Confessions of a Depressed Bullet, a black comedy presented by Mookalucky Productions. Written & Performed by Rob Mokaraka he unfolds his 'depression in an entertaining yet insightful way, shining light on a traumatic event – you will hear why he ended up being Shot Bro.'  After the show a forum will be facilitated by a qualified health professional.
Next week sees the opening of SolOTHELLO, an adaptation of the Shakespeare's Othello as a solo performance at CircaTheatre.   Regan Taylor  uses Māori Performance Mask (Te Mata Kokako o Rēhia) and mixes together the 'original prose, modern English and Te Reo Māori to deliver a dynamic and cheeky interpretation.'Presented by Te Rēhia Theatre Company.
On the same night BATS hosts the opening of another solo show –Tiki Tour, a one-woman sketch comedy show written and performed by Kura Forrester.  She plays all the characters including the main one -Bronson Atarangi from Poririua – who  is sharing his story about his recent travels abroad. Presented by Hāpai Productions.
Later that week White Face Crew present the award winning show La Vie Dans Une Marionette. Be drawn into the epic melodramatic world of the Pianist and his Puppet as the Crew combine physical theatre, clowning, dance and live music.
Next Saturday Te Papa host a reading of Whakaahuatia Mai by Kahu Hotere. It "shows a moment of discovery for Miharo, a young boy who must share his birthday with the passing of his kuia. Through his time on the marae he discovers the beauty of tikanga, the importance of Tangihanga and gains a deeper understanding of his whakapapa. Originally directed by Nancy Brunning for the 2004 Te Reo Māori Season, Taki Rua has revived the hit Whakaahuatia Mai for the 2016 tour."
Mana Wahine is the triumphant finale to this festival. Presented by Okareka Dance Company this piece combines dance, theatre and film to tell a story "inspired by the true story of Te Aokapurangi, a young maiden from Mokoia Island who single-handedly saved her people from slaughter."
In te reo Māori, kia mau is a call to stay – an invitation to join and find out more about us all.