Preview: Project Glow
At a possibly not-that-secret location in the heart of Te Aro, The Wellingtonista was invited to preview the entrants for this year's Project Glow. We had to tap on the window to gain entrance, and while there only managed to take the blurriest of photos.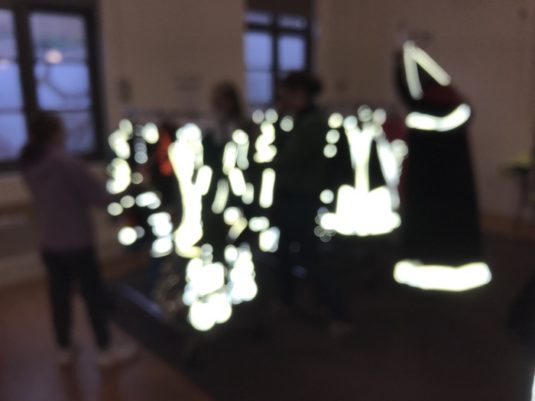 That's because the judges were busy at work; and we browsed through the racks in relative quiet while trying not to overhear the judges' animated discussions about the nearly 150 entries.
This is the second year Project Glow has been run. It's for:
talented and aspiring designers to create every day reflective wear for people walking, running, or riding a bike in the hours between dusk and dawn
We saw some up-cycled pieces to covet; some incredible printwork; lots of interesting shapes and forms; and a clutch of nifty knitwear – all of which we tested for reflectivity with our phone lights. It was fascinating, stylish, and even practical; and more than a little bit inspiring.
We enjoyed looking at all the entries. But they'll truly come alive during the runway show on August 12th in the Frank Kitts Park underground carpark. We're really looking forward to it!
Project Glow: 7:30pm Saturday 12th August / Frank Kitt's Park Underground Carpark
Later: The inspiration was a little contagious, and later, at home, I started looking on AliExpress for reflective materials. I'm thinking a few cutouts of purple retro-reflective tape will go nicely on my bike!