Preview: The Wholehearted
Massive Company is bringing The Wholehearted to Wellington in September. An honest portrayal of the extreme power of love, it was developed through conversations with their local community, asking them to share their personal stories of affection and dedication. The result is a heart-warming devised theatre work that spans generations, genders and cultures.
Massive Company's Artistic Director, Sam Scott, says, "We make our shows for those who love to feel the impact of their theatre experience; who want meaning and connection through seeing stories that make them laugh and dream around their own lives. We make theatre for those who want less injury and more beauty in the world. In this tricky, topsy turvy world of ours, The Wholehearted is a great antidote. This show is transformative and fills its audiences with joy and hope about living."
Massive Company unites young and emerging theatre artists with established practitioners, giving newcomers time and space to flex their creative muscle through devising, performing and directing. The work they produce is distinctly Kiwi, genuine and contemporary.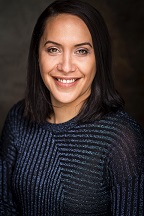 Kura Forrester has been working with Massive Company since 2008. She's an experienced stage and screen performer who shines in comedic and serious roles. She's one of the performers in The Wholehearted and made some time to answer some of our questions.
"I've worked really hard at committing to being an actor and this has paid off in the last two years, allowing me to get a good roll of work on. It took me ten years to work out how to balance being available as an actor and also managing to stay alive money wise. It's certainly not easy, and a lot is sacrificed, but I feel very lucky in my work and have a good balance going…..at the moment! Long may it last!
Massive Company for me is such a fun, joyful, curious company filled with wonderful people, I will always come back. The work and the people fulfil me in lots of ways. I get a lot of joy out of the work. The Wholehearted is a devised show and all of the actors were involved in all of the making process. As part of our research we were set a task of interviewing people out in the world. We asked them questions about wholeheartedness, what this meant to them, how their hearts were being in the world, what was their idea of heaven on earth, and many other questions. We drew off a lot of this work as well as our own answers to these questions. 
Working with physical motif to tell stories is a big part of how we make theatre in Massive Company and can be seen in most of our shows. We use many different techniques to make physical work, often using inspiration from real life and making it dynamic and interesting to watch. We work very hard and as actors have to be very fit and always ready to attack the work.
 During the process of making this show it became very apparent to us all that in order to tell these stories we needed to be living wholeheartedly in our own lives. And so, we all began to in our own ways, discover what wholehearted meant to us and truly work to be this way in our lives. So yes, this show has affected me a lot, I have worked to be more honest with myself and clearer about what my heart wants and needs in this life.
 It's always so awesome as an actor to hear how your show has moved and touched people's lives, The Wholehearted has had profound feedback. Some of my favourite moments have been hearing people say "This show really cracked me open", and young people responding to the show with "I never knew theatre could be like this, its' made me think about my own life". These are always very special and rewarding moments."
Kura hopes the Wellington audience will "be provoked to look inside themselves and see how they are. To laugh and cry and whoop with joy! To smile and be so pleased they decided to come!"