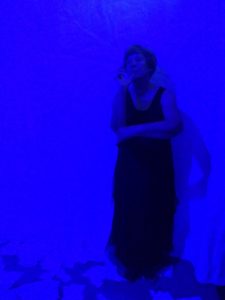 Circa Theatre has been transformed into a series of performances areas featuring music, video, and contemporary dance. The audience follows the performers as they move through different spaces until we all end up at the same stage.
Rushes is a fascinating and contradictory experience. It's exciting to see Circa opened up even though it's hidden behind a white wrap. We're invited to make our own pathways and explore but there's a very clear pathway to follow. Each space/place has captivating music, physical performance and lighting or video. As an audience member you feel the desire to stay in one space yet you're aware there are more performance spaces. You want to stay and soak in the atmosphere only you can't because curiosity (and #fomo) leads you on. Adults have the gleeful excitement of children as we explore the spaces and the windows in to different areas. The performers move with us, rushing past up and down stairs, in and out of lights. They dance together or they solo, lit by clever lights or videos. Performers and audience blend because we're all moving together. Sometimes the only way to tell them apart is to look for the wine glass (although this is not a  foolproof method).I try to mediate my experience by taking a lot of photos and videos and I see others doing the same. It's overwhelming. It's exhilarating. It's mesmerising. I'm going again.
See it before it finishes.
NB: This is a promenade performance and not all areas are wheelchair accessible.
Rushes, on at Circa Theatre to 5 March 2018, as part of the New Zealand Festival