Review: At The Wake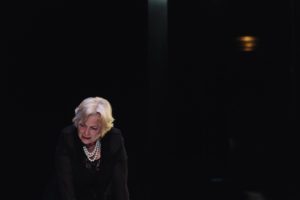 Robert's mother Olivia has died unexpectedly and he's returned from New York for her funeral. His grandmother Joan is pleased he's back as she's devastated by her daughter's death. Joan has been a big part of Robert's life since his father Tofi walked out before he was born. A little bit of courage will get them through the funeral and the wake…until Tofi arrives to pay his respects. All bets are off as Joan releases years of resentment.
Victor Rodger has written a fast paced play which is an exploratory rollercoaster of love and hate. Insults fly and too much information (according to the characters) is shared. The main perpetrator is Joan played by Lisa Harrow making her Wellington stage debut. Harrow is an experienced actor with a long career on stage and screen and this shows in how she portrays the two sides of Joan – unapologetic strong-minded diva and grief-filled mother. She delivers vicious lines with spirit and great comic timing. The target of her vitriol is absent father Tofi, played by Jerome Leota with a careful deliberate manner. He gives Tofi a slippery gentleness that changes just when you think you've got a handle on who the character is. Newcomer Marco Alosio is grandson Robert. Alosio externalises his character's anxiety as he constantly fidgets with his jacket or walks around restlessly. He's at his best during some of the later scenes where he's fighting to keep control.
Director Jane Yonge sets up some visually lovely scenes and has worked to ensure the cast make the most of the quick-fire comic dialogue. The audience responds by sitting on the edges of their seats, or by leaning as far back as possible as if to get further away from the racist insults on stage. There's a lot of laughter and some gasps and hisses. Sean Coyle has designed a beautiful set with wood panelling floor to wall and shiny black sides. Bare bulbs hang from the roof as part of the lighting design from Jennifer Lal which turns the set from a home to a delicate chapel to a soulless hall. The seating in Circa One has been rearranged and reinforces the chapel-like atmosphere. (I really like this contextualisation of the play. Also, at opening night we were greeted by a woman (producer Tanea Heke) dressed in black just as we would at a funeral – although I'm not sure whether this was deliberately part of framing the performance or a courtesy for the unusual-for-Circa-opening-night crowd.) Alex Sipahioglu has designed the sound which links scenes together and provides some of the laughs.
Please do not miss this one. It's magnificent and should only get better.