Review: Wilson Dixon's What a Country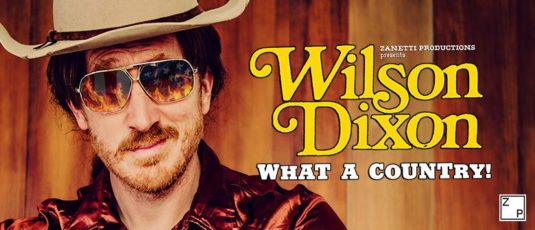 Guest review by Emma Maguire
When I glance around the theatre before What a Country and notice that I'm definitely the youngest person in the audience I realise that I might be slightly out of this show's demographic. I also hate country music.
But that's alright, because Wilson Dixon's What a Country manages to transcend my loathing of all things country and gets me laughing within minutes.
Wilson Dixon is from Cripple Creek, Colorado, and he is the picture of a generic American country singer. His wife's left him, and all he's got left is his guitar, his ever-growing family (seriously, how many brothers does this dude actually have?), and a tumultuous relationship with his horse.
With anecdotes about flying, ex-wives, alcoholism, and Trump scattered between songs such as 'Ain't No Good', 'Old Lady's Garden' and 'Knowledge and Wisdom', Dixon's deadpan delivery is a delight to watch. In particular, I enjoyed a song called 'Goodnight, Sleep Tight', a lullaby for Dixon's niece to listen to when her parents were fighting.
To put it politely, that song definitely doesn't end the way you'd expect it to.
(Actually, that theme runs through the entirety of the show.)
Though some of the punchlines are telegraphed, and a few of them are a tiny bit cringey, What a Country is an excellent show to see if you're into mellow comedy. The stakes are low, there's no audience participation, and you're free to just listen and relax. The fantastic songs and an oddly charming host are an excellent bonus.
Take the chance to sit back, have a beer, and listen to some of the funniest country songs you'll ever hear.
(Seriously, even if you don't like country, give this show a go! It'll grow on you.)
What a Country is running at Tapere Nui in Te Auaha in Wellington at 7.00pm between now and Saturday. Tickets are selling fast. Get amongst!