Review: The Blender (Sundays with BaseJump Improv)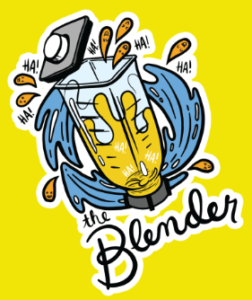 With a dash of insanity, a smidge of ridiculousness, and a lot of Wellingtonian wit, BaseJump Improv's new show The Blender is a wild ride for your Sunday evening.
We don't tend to see Sundays as a 'going to theatre day' but with a show running at roughly forty-five minutes long, this piece is easily manageable between wallowing in sadness, recovering from a hangover (as I was) or whatever else you do on a Sunday evening.
The Blender cast (last night it was Lesa McLeod-Whiting, Duncan Ballinger, Tristram Domican, Tony Yuile, Tim Croft, Jonothan Mandeno and Jamie Hoare) takes true stories by notable Wellingtonians and improvises pieces from them.
Our storyteller of the evening was Kate Spencer, known in Wellington for her poetry. She told us three unique stories – about masturbation poetry, diarrhea in China, and getting robbed when travelling – and then the excellent team of improvisers created utter manicism around them. While the content was slightly bluer than I anticipated for a Sunday evening, it was a fun ride and not at all what I was expecting.
Want to know how the artist inside you is connected to one of the stories above? Well, you'll just have to see the show.
(Obviously it's improv, so that exact topic is never going to come up again, but that's why you need to be there in person to witness it.)
One wonders if a slight chance to the show's format – perhaps shortening the stories told and lengthening the improvising from them – would add more of a sense of pace to the overall piece, but otherwise, The Blender is a damn fun show and very much worth coming out for on a wet Sunday night.
It's performed at the Scruffy Bunny Improv Theatre, a great new improv venue in Wellington that lies within the Reading Courtenay complex. Though it may not be quite what you're expecting of a theatre, the place has a wide range of improv acts, and the ticket prices aren't ridiculously steep either.
Hit up the BaseJump website for more details about their shows and classes.