Preview: The Glitter Garden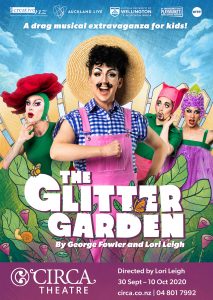 The Glitter Garden is a drag musical extravaganza for kids featuring dazzling outfits and fierce lip syncing. Join Hugo the Gardener on Pride Parade as he attempts to embrace self-care, personal growth and planter boxes, all with the help of his glittering garden friends.
Created by TVNZ's 'House of Drag' winner Hugo Grrrl (George Fowler) and acclaimed stage director Dr. Lori Leigh, this children's theatre show aims to educate, empower and entertain young people through the art of drag. Leigh and Fowler are frequent collaborators. In 2020 their production of Princess Boy Wonder received four NZ Fringe Festival awards nominations including "Best in Fringe" and won two awards: "The Grand Design Award" and "Melbourne Tour-Ready Award. Fowler says "I made this show because everybody loves sparkles. And because if I had seen this show as a kid it might have changed my life." 
The Glitter Garden stars Hugo Grrrl, Eva Goodnight, The Everchanging Boy, Robin YaBlind and features an original score by Maxwell Apse.
All tickets are $15 and you can buy a Pay it Forward voucher for families and teens not usually able to attend theatre.
Glow forth and spread a little sunshine today!
The Glitter Garden on at Circa Theatre 30 September – 10 October 2020; relaxed performance 11 am Tuesday 6 October 2020; suitable for all ages and aimed at children aged 3 – 8 years