Review: Popcorn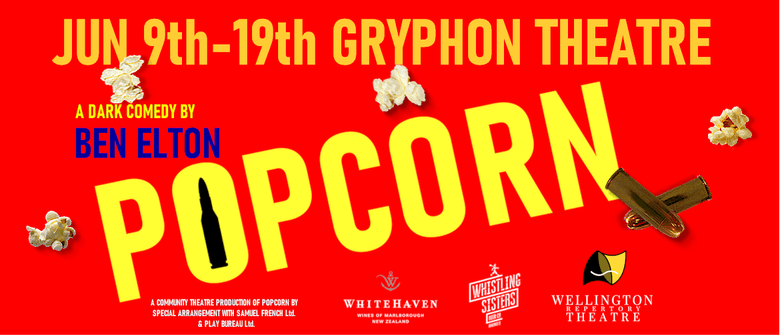 Wellington Repertory Theatre's newest offering is Popcorn, Ben Elton's play. The dialogue is witty, the scripting tight and the themes prescient despite being written in 1996.
Set in the home of a exploitation cinema director, Bruce Delametri, Popcorn takes place over one night as the legendary Mall Murderers invade Bruce's house after he wins an Oscar and demand his and his family's compliance towards their fiendish plan. With murder, mayhem and a lot of sexuality, it is a piece for those of you unafraid of a bit of spice in your night out.
The performances are the highlight of this piece, with special note made to three particularly challenging roles, those of Wayne and Scout – the Mall Murderers, played by Jonathan Beresford and Sara Douglas – and Brooke, an up and coming actress, played by Stacey O'Brien. Beresford and Douglas bring a entertaining insanity to their roles, hovering on a knife's edge, ready to snap at any moment. O'Brien, playing multi-faceted and eager Brooke, has an interesting dance moment, as well as a lot of great asides to the audience.
I do, however, question the baffling choice of punctuating every joke or heavy moment on stage with a corresponding image-based element on the giant television screen that takes up a large portion of visible stage space. I understand that films and filmmaking are a significant theme of this show, however, it reads as a little condescending to the audience to visually explain jokes that they already have laughed at, especially as this is not an element present within the base script. The screen, at times, is also rather distracting, and perhaps not as innately necessary as used.
However, Popcorn is an interesting, though violent show, that feels a little like being on the edge of a panic attack. The pace doesn't let up for the hour and a half long piece, and the show itself is mostly quite strong. Bring your shocked gasps!
Popcorn is being performed at the Gryphon Theatre in Wellington until the 19th of June – no show on Monday. Tickets available here.