Nelson Designer Takes Out WOW's Top Award for Second Time
Nelson Designer Gill Saunders was awarded The World of Wearable Art's Supreme Award this Friday for her design, Earthling (pictured). Taking its inspiration from the rising popularity of adult colouring books and promoting mindfulness in a "world under increasing stress", Earthling celebrates earth's natural wonders in a beautifully crafted garment made from EVA foam, acrylic paint, and wire.
Runner-up Chiaki Shimizu's SAMURAI GIRL is her first ever entry to the competition, and also won the Avant-Garde section award this year. A striking piece of interwoven studs, shapes and metals, this powerful design would absolutely stun on the battlefield.
110 finalist entries from twenty-three countries walk the runway during this year's World of Wearable Arts show. With over 100 dancers, performers and aerialists as well as innumerable amounts of crew, this show is absolutely incredible, inviting us all on an intergalactic trip to six gorgeous planets – Mars (& Beyond), Aotearoa, Open, Avant-Garde, Gold and Cafe Bizarre (Bizarre Bra).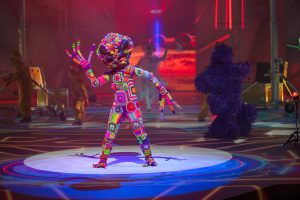 The dancers act as scientists in the first section of the show – Mars & Beyond – exploring the weird and wonderful alien creatures created by our designers. A young actor wearing a robot suit is joined on stage by several actual robots (styled somewhat like NASA's Perseverance and Curiosity rovers), and soon our samples are collected, and we blast off to the next planet, Aotearoa.
The planet of Aotearoa is a wonderful mix of Māori taonga and solarpunk future. A full sized waka rolls onto stage, angular but still unmistakable, and we're drawn into the world with dancers in deep red outfits – whirling and powerful upon the stage. What is the showstopper of this round of designs is Craig McMillan's Child-Hood, as well as the winner of the category – a giant wooden wētā which is pushed along the stage by a performer lying flat on their stomach inside it. It is nonsense, and wonderful; but that's the appeal of WOW, isn't it?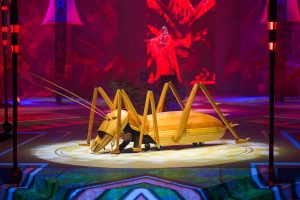 Our third planet is Open – a digital odyssey, where dancers dressed in light strips stride out into the audience, scanning us. This world is technical and cyberpunk-inspired, pulsing with light and strobe beats; hearing the THX sound and Crazy Frog (Axel F) in the sound track within the same three minutes nearly sends me to my grave. This category of designs ranges from the absurd to the deeply engineered, and our winner of the entire show – Gill Saunders' Earthling – wows amongst them all.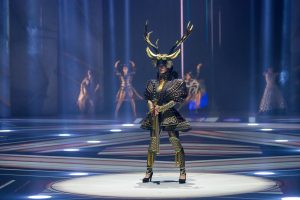 The planet of Avant-Garde holds an underground civilisation, ruled over by a cult leader – our vocalist of this part: Jaxson Cook. As we land on the world, a contortionist balances on a box in the centre of the stage, then draws a archery bow with their feet, firing an arrow towards the back of the stage. It is an incredible feat of balance and strength. Avant-Garde is exactly what you'd expect it to be; wild and weird designs, unearthly shapes and materials.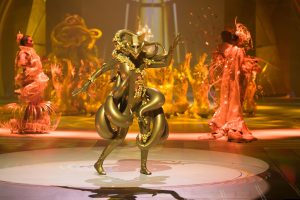 Our penultimate stop on this whistle-stop tour of the universe is Gold, a planet heavily inspired by ancient Egyptian stylings. Glittering bright in the stage lights, these stunning designs play on precious metals, sun worship and celestial bodies.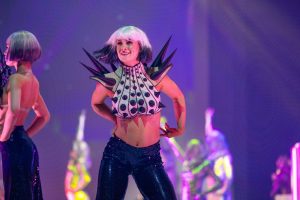 A delightful final piece takes us to Club Bizarre for the Bizarre Bra section of the show. Our vocalists from the entire show join each other on stage alongside all our performers for a section that is as delirious and diverse as the city it's being staged in. Donna Summer's I Feel Love pulses through the venue as our performers strut and weave in a gender-bending miasma of movement.
WOW is an show unlike any other. The sheer scale and talent within, both on and off stage, is utterly worth experiencing. As a fiend for space and anything space-related, BEYOND absolutely tickled me, immersing me amongst a world where anything is possible. Hats off to the cast and crew of this year's event for an experience that is utterly out of this world!