Sharing spaces
Following Auckland's lead, Wellington has opened Lower Cuba Street as a shared space. There wasn't much celebration or fanfare beyond an article in the Dominion Post about letting cars back in. Technically, I'm not sure if the "shared space" has been officially opened, and I'm not really in the mood for celebrating.
The idea of developing Lower Cuba Street as a shared space was a reaction to public disapproval of changing the status of Manners Mall from a pedestrian mall to a bus route. A report to WCC Strategy and Policy Committee (PDF) highlighted that residents were upset at the loss of pedestrian space. An amended proposal was put forward and subsequently passed. The initial images looked encouraging. These were taken from the amended proposal: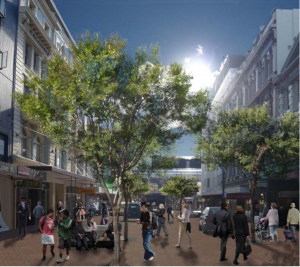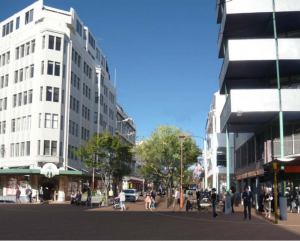 Unfortunately, the final design looks strikingly different. Councillors voted to include 20 car parks in the design, giving us this:

While it boasts wide footpaths and trees, I challenge anyone to point to the shared part of the shared space. Car parks are 2h pay-and-display parks, which doesn't lend itself to sharing – except with other cars, and the road down the middle looks as unfriendly as any other. At least the signs say "please" when asking drivers not to run over pedestrians. I regularly walk up and down Cuba Street, swinging back and forth between anger and sadness for what we've been given as compensation for lost pedestrian space. Honestly, Lower Cuba St bears more resemblance to Blair Street and Allen Street than to any of Auckland's new shared spaces.
Park(ing) Day first started in 2005 and aims to encourage thinking about urban spaces. The simple idea is to take a car park, pay for it and turn it into a park for people to enjoy. The first example was a 2h park in San Francisco. As word spread around, Rebar released the project to the public. The 2010 event hosted 850 parks in 30 countries and the idea is still spreading. Park(ing) Lower Cuba Street seems to be a perfect way to raise the issue to the public and to city council. The design fails to provide a shared space; by taking parking spaces and forcing them to be shared, we can illustrate how poorly the design fits the original stated goal.
So this post is a call to arms. We want you to be involved. We want your lawn chairs and your pot plants, we want your coffees and your books. We want people to share spaces with people. There are 18 parking spaces available for general use, each of which is an opportunity to be something more than it is. Park(ing) Day 2011 is Friday, September 16. If you have some time and want to come along, help out or buy an hour on a parking meter, leave a comment below.
Since my original off-handed tweet that started this whole thing, I've received offers of assistance and a fair bit of encouragement. Armed with the day off from work and some folding chairs, I'm looking to retake some space and have coffee with any Wellington City or Greater Wellington councillors who care to stop by for a friendly chat.