The Rugby World Cup and You, Too
Despite Hadyn's earlier post we know there's a reasonable proportion of you out there (just as among the Wellingtonista itself) that are relatively meh about this whole World Cup thing.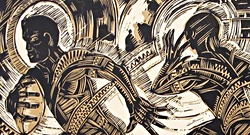 But whatever your opinions about the event, it has to be acknowledged that a lot of effort has gone into the associated off-field activities, many of which even committed rugby-phobes are likely to enjoy. There's plenty of these to check out on the RWC Wellington website. So many though, that we think that it's worth highlighting a few in particular we'd like to get along to.
Starting with those with a definite rugby linkage:
Then there's those that have been put on as part of the celebrations but which aren't necessarily rugby-in-content:
Phoenix Foundation at Carnivale – the information for this is a bit sketchy at the moment: there are a number of free gigs over the period but the exact programme yet to be made public. However the Phoenix Foundation's website says 29th September and 7th October, and if it's only a fraction as magical as their legendary Valentine's Day 2008 gig at Frank Kitts' Park many of us will be rapt.
The NZ On Screen installation on the waterfront by Te Papa, shipping containers showcasing NZ film, TV, short films and music videos. (And if you are very attentive, you may even spot a certain very very young Wellingtonista in one of the clips!)
But in the end, it might be that for some of you the merest hint of that fifteen-a-side team game is just too much. For you, short of pulling the curtains and hiding under the bedcovers for a month, life is going to be hard. So here's a couple of suggestions that might help:
Oceania at City Gallery Wellington and Te Papa – a selection of the best in contemporary art from the Pacific, and a look at the history of the people. These exhibitions have already been inspected for rugby content by a Wellingtonista, and there is apparently "Not a mention of the leather egg!".
Finding a quiet bar with like-minded friends, off the main drag and with no TV screens, and barring the door behind you. We can think of one likely candidate…!
Please let us know (comments below) of any other must see RWC or completely non-RWC activities that we should be attending. And good luck. Whatever happens in the next month, we're in for a busy time.