Discover the Light House Cuba before the world's movie-talkers spread the word during Skyfall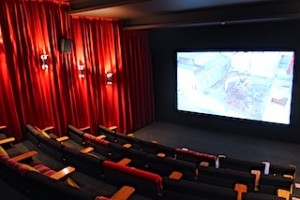 The Cuba Quarter's newest entertainment venue is a welcome addition indeed, with the well-respected Light House Cinemas spreading into Wellington proper (sorry Petone but whatchagone do, you're Petone) via their new location opposite Havana on Wigan Street. If Cuba Street and Courtenay Place had a fight (what do you mean "if," right?), this now gives the latter one less media-form to which it can claim exclusive access.
The new cinema sits comfortably alongside established faves like the Paramount (slogan: "What, You Think Reading's Getting This?"), Embassy ("You Deserve This For Living Here") and Reading ("XTREME POPCORN BUCKETS IRON MAN MIDNITE SESSION 2-MILE SCREEN 4D BLAAAAAAAST"). Where those flicker-pits all have their drawcards – as do fine suburban picture-palaces like the Penthouse and Empire, have you noticed yet how hard it is to get us to say anything negative about a half-decent movie-house? – the Light House Cuba seeks to provide what they're calling a "miniplex" experience, with an awful lot of moviegoing packed into an awfully cosy space.
In fact, this might be downtown Wellington's first new cinema to acknowledge as its primary competitor not the city's other jaffa-dealerships, so much as your very own home. Time was that seeing a new movie meant shuffling past patrons only too eager to favour all and sundry with their thoughts on the quiet bits and confusion as to who that guy is and whether he was in the other movie with that lady; but nowadays we've the option of just watching movies somewhere where you can regulate the conversation, pause for a coffee, and put your feet anywhere you damn well please. Those who still value the big-screen, dark-roomful-of-communing-souls experience will find a happy medium in the Light House's comfy two-seaters and immersive viewing environment.
The cinema prides itself on exclusive fare such as the MET opera series and upcoming masturbation drama The Sessions, but is also fitted out with an enviable 3D setup and isn't averse to showing movies where white guys point guns at each other for political reasons. That is to say, it's not all worthy fare that you'll skip when a new superhero movie comes out. The venue bestrides the shores of serious cinemah and Friday-night fun like a colossus of competitive ticket pricing, with every night bringing some way or other of getting into a movie without taking out a second mortgage to pay for 3D glasses.
For those keeping score, this means Cuba Street has music (almost as much music as the Internet, lol now let's go bankrupt some indie musicians), the written word (Ferret/Quilters/Pegasus et al vs Whitcoull's, sadtrombone.wav), and an answer to the Embassy District's hitherto-unassailable grasp on the dominant art form of the 20th Century. (Cuba also gets comics, videogames, and clothes you can browse without getting hard-sold by a wad of hairgel with a little dude hanging out the bottom, which is a bonus). Your move, Allen/Blair/Cambridge.